Faxes can easily be sent to your email address with the LP Wireless efax Fax Mail service. Below are instructions on how to use our fax to email solution.
Instructions Top
Internet e-mail was designed to make communication easier. When it was first developed, you could only send words with your e-mail messages. Eventually, e-mail became more advanced and it was possible to send files attached with those word messages. This is the e-mail we use today. When you receive a fax, the fax itself is delivered as a fax attachment.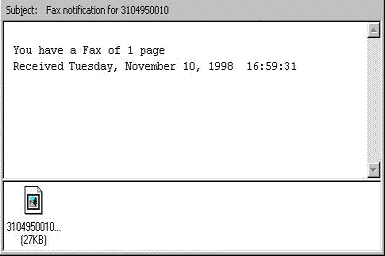 When you read the e-mail message, simply double click on the attachment to view the fax.
Problems encountered with Windows Computer Top
The introduction of faxing into the email marketplace has unleashed a few software configuration problems with personal computers. This page is designed to keep you updated with them. However, before continuing you should make sure that your Windows 95, 98 or NT operating system is up-to-date on the most current releases by Microsoft. These updates are usually free and crucial to making sure your computer works properly. You may click here to go to Microsoft's Windows 95 update page. If you are running Windows 98, be sure to frequently use the included Windows Update feature. For Windows NT, you should be running the newest service pack available from Microsoft.
Helpful links:
Download updates for Windows NT Workstation 4.0
Download updates for Windows NT Server 4.0
Printing Problems Top
If you are running Windows 98 you may experience some problems printing the faxes you have received. Printouts may come out blurry or as a solid black page. This is a sign that your computer does not have the most up-to-date drivers for your printer. Your printer manufacturer's web site usually has the most recent drivers available for download. For your convenience, we have assembled web sites for the most popular printer manufacturers. Click here to go to the print drivers page
Adobe Photoshop Top
When you installed Adobe Photoshop, your computer was told to use Photoshop to open ALL Tiff files. Unfortunately, Photoshop cannot support the Tiff format used for faxes so it will not be able to open the Tiff files received with your e-mail. The fix for this problem can be found under Solution A
Logitec Top
Logitec bundles their mouse products with custom software they have created. One program that comes with the package is a Tiff viewer, and it will display your faxes blurred, sandwiched and unreadable. The fix is found under Solution A
Problems Viewing your Fax Mail Top
"When I double-click on my tiff image it comes up unreadable. It looks like the fax was sandwiched together."
"My computer simply won't bring up the fax. When I double click on the attachment, a window comes up that says: "Click the program you want to use to open the file ...."; If the program is not on the list, click other."
Solution A Top
Windows Imaging may simply be uninstalled on your computer or the program has somehow been corrupted.
To check if you have Imaging for Windows:
1. Click on the Start button on your desktop.
2. Select Programs.
3. Select Accessories. One of the options in the Accessories popup menu should be 'Imaging'. If you cannot locate 'Imaging' on this menu then you do not have Imaging for Windows.
At this point, you will simply need to place the check in the window and click "OK." You may be prompted for your Windows CD-ROM so have it handy. After you have made these changes you MUST restart your computer. If you are still unable to open Tiff images try Solution B
Solution B Top
You should only move on to this section if you were unsuccessful after trying Solution A . In order for you to view your fax documents, you need Imaging for Windows, which is part of most Windows 95 and all Windows NT 4.0 systems. Solution A attempted to reinstall this feature, in Solution B we show you how to download the most recent version of Imaging, which is compatible with more computer systems.
To install Imaging for Windows:
You may try to manually add Imaging by placing a check next to the 'Imaging' option in the Accessories popup menu (if there is not a check already there). After clicking "OK" Windows will copy the necessary files from your hard disk or Windows CD-ROM
Install Imaging for Windows according to the instructions provided as part of the download. If this is still unsuccessful, go on to Solution C
Solution C Top
If you were unable to view your faxes after following the directions provided under Solution A and Solution B then you will need to contact LP Wireless technical support or call your Authorized Reseller. We are dedicated to servicing our customers in every way possible.
Problems encountered with Apple computers Top
The single problem we have found with Apple computers is that Mac OS does not provide a TIFF file viewer with their operating system. There is shareware available called Graphic Converter that will allow you to view the faxes received on a Macintosh. Go there now!
Note: You will need to go to the Graphic Converter web site for installation instructions and help with the software
Additional helper software free on the Internet Top
Many applications have been written to handle Tiff images simply because the file format has been around for so many years. One popular convertion tool is GIFConverter. We do not control the content on that web site, nor do we have control over the software itself, so please review all documentation before making a decision to use the web site or the software.