You can use any phone to interact with the LP Wireless Messaging Center, just as you can use any computer in the world to interact with your messages.
To use the phone:
Dial your One Number (The local or toll free number that you were assigned at sign-up).
When the system answers, press the pound button, #.
Enter your password number.
You will hear the number of new and saved voice mail messages that you have, plus the number of emails, faxes, pages, and Immediate Messages. Except for faxes, you can get all of this information over the phone. (Note, text to voice functions require you to be signed up for Office Solution Plus or Total Solution Service package.)
Once you have heard this summary, you can press any of the following numbers:
| | |
| --- | --- |
| 1. | To Listen to New Messages |
| 2. | To Make a Phone Call (Local or Long Distance) at 2.9¢ minute |
| 3. | To change your Personal Options such as password, greeting, and personal attendant greeting (IVR) |
| 4. | To Get Saved or Deleted Messages |
| 8. | To access Call Routing for Meet Me, Call Forwarding and Call Blasting |
| 9. | To hang up (or just hang up the phone) |
| 0. | For Quick Follow Me Functions |
Listening to New Messages: Voice Mail, Immediate Messages, Email, Fax, and Numeric Messages
When a caller leaves you a message at your One Number, they can leave a voice mail message, send a fax, or punch in a number that shows up on your pager or other wireless communication device.
To hear your messages, call your One Number and as soon as it answers, press # and enter your security code. To listen to your new messages press 1. Then select from the following prompts: 1 for Voice Mail Messages, 2 for Immediate Messages, 3 for Email Messages, 4 for Numeric Messages, or 5 for Fax Message Information. As a time saver, while listening to a voice mail message, you can press the * key to jump back, or the # key to fast-forward through the message. Each key will take you either 5 seconds backwards or forward through the recording. Once you are finished listening, press 3 to delete the message or 5 to save it. Press 4 if you would like the system to repeat the time, date and calling number, or press 7 to re-play the message again from the beginning.
After you listen to a message, or during the playback of a message, you can act upon that message. You can call back the person that left the message right from your voice mail! Simply press 2 to make an outbound call and you will be prompted to enter the area code followed by the telephone number. Even easier, if you have toll-free number service, we save the caller ID information with every incoming call, so simply press 1 to have the system automatically connect you to the caller ID number stored for that message for instant One-Button call-back. After the call, press ### to hang up that call and make another call, or * to go back and review more messages. You can press 1 to call back the person who left the next message, and so forth.
You can also choose to Skip or Transfer a Message by pressing 8. Once you do that you have the option to 1 skip to the next message, 2 Go Back to the Previous Message, 3 Forward the Message to another LP Wireless user, or 4 to Forward this message to your email address with an attached voice file.
To quicken operations even further, numbers, * and # can be pressed at any time while listening to a voice mail message.
Length of Incoming Messages
Callers can leave a message whose length is defined by your personal preferences. The default time limit is 2 minutes and can range from 15 seconds to 5 minutes depending on the Service Plan you have selected. You can set this parameter by going to the web site, entering your message center, and selecting My Phone Services, Preferences, Voice Mail Recording, and selecting from the pop-down menu.
2 - Making Outbound Calls
To make an outbound call at any time, from the Main Menu, press 2. You will be prompted to enter the phone number you wish to be connected to (be sure to enter the area code first, but no "1"). Currently we support long-distance calling throughout the United States and to any toll-free number. International calling will be supported soon. The cost of the long distance call will be deducted from your reserve account. To make another call simply press ###, or press ** to exit.
3 – Personal Options Change Your Password, Record a Name Announcement or Record an Outgoing Greeting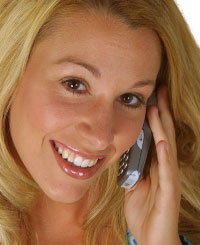 Your mailbox comes with a default greeting and password (your security code). These can be changed at any time.
There are actually two types of greetings you can have. The first is simply called a name announcement and is option 2 in the Personal Options menu. The name announcement option will only give you 5 seconds of recording time, which is enough for you to say your name. Press # to eliminate blank time after your name. If you have recorded a name announcement, callers will hear the system say "I am taking a message for (your name announcement)." So for example, if your name is John Doe, then the system will prompt callers with "I am taking a message for John Doe." As name announcements leave a brief and professional impression for callers, many people prefer this method of personalizing their mailbox.
The second type of greeting for callers is one that has been recorded using option 3. This allows for a longer greeting, from 20 seconds to 5 minutes in length and will begin playing as soon as a caller dials your One Number.
If you do not enter a Name Announcement or an Outgoing Greeting, a standard greeting will be used. If you record both a Name Announcement and an Outgoing Greeting, only the Outgoing Greeting will be used.
8 – Call Routing Menu Follow Me and Call Routing
The Office Solution, Office Solution Plus and Total Solution Service packages permit you to make a direct connection between your One Number and any one phone of your choosing. The Total Solution Service Package, permits you to connect your One Number to multiple phones that can even ring simultaneously (Call Blasting) and with time dependent schedules.
Call Forwarding is a direct connection between your One Number and another phone number. Press 1 to block your call forwarding and have your callers sent straight to voice mail. You can enable or disable call forwarding at any time. Press 2 to enable call forwarding. The last number that you used is retained and can be turned on again in this menu or a new number entered. As always, enter the area code followed by the number. Do not enter a "1" in front of the area code.
Press 3 for Follow Me, which is Call Forwarding to the number you are calling from. Press 4 to enable and provision Call Blasting. Call Blasting is extremely powerful permitting multiple phones to ring simultaneously. The one that picks up first wins, the others hang-up. On the web site, select Call Blasting in the "My Phone Service" section of your Message Center to perform advanced configuration of Call Blasting.
We hope that the previous pages have been informative in helping you get started with using your message center. Your LP Wireless number will keep you connected, informed, and it will empower your life. Thank you for your business!