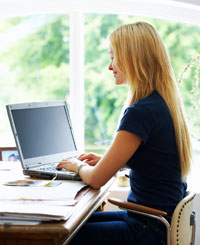 Message Center:
Gives you the ability to listen, view, save and even forward voice mail messages, faxes, numeric messages, and e-mails, all from one place. The LP Wireless Virtual Office is accessible from anywhere in the world using a browser.
Calendar:
It's a calendar and a planner on a whole new level. You can construct events in your calendar to be public or private, making them available to visitors in your personal Lobby. Your clients can even request appointments on-line based on your schedule. You will be notified of upcoming events or requests for appointments on your wireless devices.
Address Book:
The on-line address book has built-in CRM (Customer Relations Management) features, allowing you to create in-depth personal and business contact information. There is no need to worry about re-entering your existing address book into this one. The on-line address book can import your contacts from Microsoft Outlook, Outlook Express and Palm.
Electronic Notebook:
Quickly take down notes and memos from any computer anywhere. Save them in your virtual office.
Internet Bookmark Storage:
Have your Internet bookmarks available from any computer you may be using. The LP Wireless Virtual Office allows you to add and categorize an unlimited number of web sites.
The LP Wireless Virtual Office Lobby:
Make your Lobby page your single point-of contact. Your Lobby is a customizable web page that allows clients to request appointments and meetings, leave you messages, and see a list of your personal contact numbers. They can even send you Immediate Messages from anywhere in the world using only an Internet browser! Immediate Messages will find you using the devices of your choosing including a pager, WAP, phone, PDA, email, or your message center.
Additional Features of the Virtual Office:
At any time you can view an up-to-the-minute log of incoming and outgoing calls for your One Number. If you have a toll-free number, you will also see the phone number for all incoming calls. If you're a consultant, you can even sort by phone number to help you keep track of customer billing. Real-time statistics are just a mouse-click away.